Titleist T300 Graphite Irons RH
Next-Day Shipping




For All Products In Stock
Unmatched Service




Satisfaction Guarantee
Competitive Prices




Lowest in Europe
Trusted Retailer




Trusted by Thousands
Authorised Dealer




For All The Major Brands
Titleist T300 Graphite Irons
Game Improvement With More Forgiveness

The new Titleist T300 Iron is the ultimate game improvement iron offering golfers, high, far and forgiving performance.

With 40% more tungsten and advanced Max Impact Technology, the new T300 can improve your launch, distance and shot making while providing maximum forgiveness. The new denser D18 tungsten made viable by a 2000º brazing process applied from aerospace construction. This kind of premium production, normally reserved for Tour irons, leads to a solid-feeling, advanced design that produces the optimal balance of speed, launch and forgiveness.

Locked behind the T300 badge lies a hidden power source. Titleist's improved Max Impact technology now includes an enhanced polymer core that improves both the feel and mass efficiency of the club at impact, giving you more ball speed and better feedback. A forgiving iron with great shaping, T300 now employs a variable face thickness design that is thinner towards the heel in the long and mid irons to improve performance at what is traditionally one of the least effective strike points.

Fitted with the True Tensei AV Red AM2 shaft that features a lighter weight design that promotes a mid-high launch angle
Titleist T300 Graphite Irons
Game Improvement With More Forgiveness

The new Titleist T300 Iron is the ultimate game improvement iron offering golfers, high, far and forgiving performance.

With 40% more tungsten and advanced Max Impact Technology, the new T300 can improve your launch, distance and shot making while providing maximum forgiveness. The new denser D18 tungsten made viable by a 2000º brazing process applied from aerospace construction. This kind of premium production, normally reserved for Tour irons, leads to a solid-feeling, advanced design that produces the optimal balance of speed, launch and forgiveness.

Locked behind the T300 badge lies a hidden power source. Titleist's improved Max Impact technology now includes an enhanced polymer core that improves both the feel and mass efficiency of the club at impact, giving you more ball speed and better feedback. A forgiving iron with great shaping, T300 now employs a variable face thickness design that is thinner towards the heel in the long and mid irons to improve performance at what is traditionally one of the least effective strike points.

Fitted with the True Tensei AV Red AM2 shaft that features a lighter weight design that promotes a mid-high launch angle
Titleist T300 Graphite Irons
Game Improvement With More Forgiveness

Muscle Under The Hood:
Locked behind the T300 badge lies a hidden power source. Titleist's improved Max Impact technology now includes an enhanced polymer core that improves both the feel and mass efficiency of the club at impact, giving you more ball speed and better feedback.

Better Tungsten For Better Results:
New T300 irons not only feature 40% more tungsten, but denser D18 tungsten made viable by a 2000º brazing process applied from aerospace construction. This kind of premium production, normally reserved for Tour irons, leads to a solid-feeling, advanced design that produces the optimal balance of speed, launch and forgiveness.

Thinner Where It Counts:
Proving that every detail matters, T300 now employs a variable face thickness design that is thinner towards the heel in the long and mid irons to improve performance at what is traditionally one of the least effective strike points.

Tensei AV Red AM2 Shaft:
Fitted with the True Tensei AV Red AM2 shaft that features a lighter weight design that promotes a mid-high launch angle.
Titleist T300 Graphite Irons
Game Improvement With More Forgiveness

Iron Back: Cavity Back

Iron Size: Midsize

Iron Face: Stainless Steel

Iron Construction: Stainless Steel With Tungsten Weights

Shaft: Tensei AV Red AM2

Grip: Tour Velvet Black/White

Handicap: Mid-High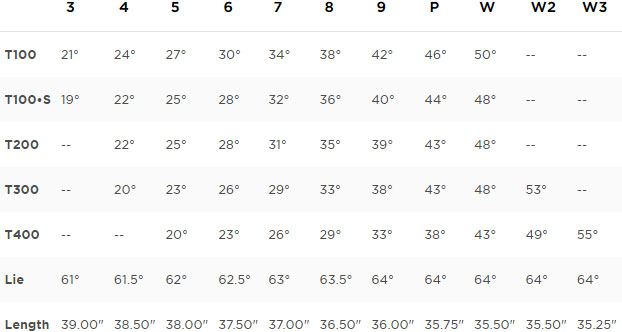 Titleist T300 Graphite Irons
Game Improvement With More Forgiveness