Titleist T200 Graphite Irons RH
Next-Day Shipping




For All Products In Stock
Unmatched Service




Satisfaction Guarantee
Competitive Prices




Lowest in Europe
Trusted Retailer




Trusted by Thousands
Authorised Dealer




For All The Major Brands
Titleist T200 Graphite Irons
Tour Distance With Sleeker Players Shaping

The new Titleist T200 Iron is the ultimate tour distance iron offering golfers, the perfect combination of shape, size, feel and performance.

The T200 evolution represents the biggest shift within T-Series with the streamlined Max Impact technology and denser tungsten weighting packed into a compact, player-preferred shape. Its maximum speed with Tour-validated feel and distance control creates an iron that wins on every front. The improved Max Impact technology now includes an enhanced polymer core that improves both off-centre speed and mass efficiency at impact. The forged L-Face inserts play fast while feeling solid.

Packed with tungsten, T200 utilizes denser D18 tungsten weights and a 2000º brazing process used in aerospace construction. Titleist engineers were able to shift CG more precisely for maximum benefit in every club – from fast, high launching long irons to accurate, forgiving scoring irons. With a players look and feel featuring a sleeker shape, shorter blade length, thin top line and the same minimal offset as T100 and T100S to enable seamless set blending.

Fitted with the Mitsubishi Tensei Red shaft that features a mid weight design that promotes a mid launch angle
Titleist T200 Graphite Irons
Tour Distance With Sleeker Players Shaping

The new Titleist T200 Iron is the ultimate tour distance iron offering golfers, the perfect combination of shape, size, feel and performance.

The T200 evolution represents the biggest shift within T-Series with the streamlined Max Impact technology and denser tungsten weighting packed into a compact, player-preferred shape. Its maximum speed with Tour-validated feel and distance control creates an iron that wins on every front. The improved Max Impact technology now includes an enhanced polymer core that improves both off-centre speed and mass efficiency at impact. The forged L-Face inserts play fast while feeling solid.

Packed with tungsten, T200 utilizes denser D18 tungsten weights and a 2000º brazing process used in aerospace construction. Titleist engineers were able to shift CG more precisely for maximum benefit in every club – from fast, high launching long irons to accurate, forgiving scoring irons. With a players look and feel featuring a sleeker shape, shorter blade length, thin top line and the same minimal offset as T100 and T100S to enable seamless set blending.

Fitted with the Mitsubishi Tensei Red shaft that features a mid weight design that promotes a mid launch angle
Titleist T200 Graphite Irons
Tour Distance With Sleeker Players Shaping

Players Look & Feel:
The T200 evolution represents the biggest shift within T-Series with a sleeker shape, shorter blade length and thin top line. They feature the same minimal offset as T100 and T100S to enable seamless set blending. Even the engineered muscle plate improves acoustics for a crisper, more satisfying sound and feel.

Better Tungsten for Better Progression:
Utilizing denser D18 tungsten weights and a 2000º brazing process used in aerospace construction, our engineers were able to shift CG more precisely for maximum benefit in every club – from fast, high launching long irons to accurate, forgiving scoring irons.

Power Packed Design:
Every component of its multi-material hollow body construction contributes to the long, consistent distance of T200. The improved Max Impact technology now includes an enhanced polymer core that improves both off-centre speed and mass efficiency at impact. The forged L-Face inserts play fast while feeling solid.

True Temper AMT Black Shaft:
Traditional iron shafts feature a constant weight profile - shafts with the same mass properties throughout the set. With ascending mass shaft technology, the weight of each shaft increases by 3 grams throughout the set (long iron to short iron). Most golfers already use ascending weight shafts in their driver, fairways, and hybrids. The T200 Irons feature the Mitsubishi Tensei Red shaft with a medium weight design for mid launch angle.
Titleist T200 Graphite Irons
Tour Distance With Sleeker Players Shaping

Iron Back: Hollow Back

Iron Size: Midsize

Iron Face: Stainless Steel

Iron Construction: Stainless Steel With Tungsten Weights

Shaft: Mitsubishi Tensei Red

Grip: Tour Velvet Black/White

Handicap: Low-Mid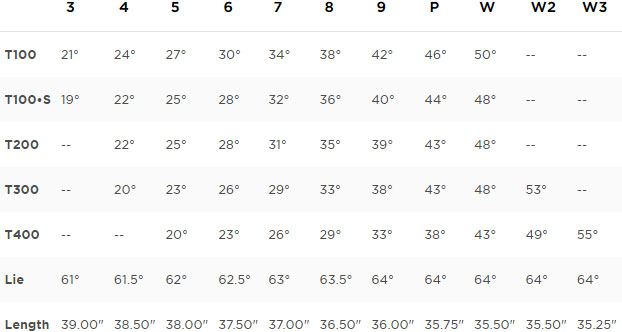 Titleist T200 Graphite Irons
Tour Distance With Sleeker Players Shaping